SINBON Electronics: Complete Wireless Solutions
International Service Team
One-Stop Service Helps Startups Develop International Market
Over the past four years, IoT Service Hub has brought together more than 200 professionals and experts in different fields: from manufacturers, mechanism designers, and chip integration companies so as to provide AIoT product development consulting and technical services. This year (2022), IoT Service Hub went further and established the "International Service Team" to expand the scope of services to the international market. With the ample manufacturing resources in Taiwan, it is expected that more international products can be facilitated through their different implementation phases of production. At present, OHGA Smartthings and SINBON Electronics, our two members famous for their "one-stop" service in the International Service Team, have a comprehensive R&D team and solid experience in international cooperation. Thus, they can undoubtedly help customers complete product development and turn product concepts into a reality!
SINBON Electronics is the world's leading provider of integrated solutions for the design and manufacturing of electronic components. It has more than 30 branches around the world and more than 100 well-known corporate partners. Its products and services include high-quality cables, connectors, system products, customized design, and also assembly services. In addition, SINBON is also an agent of various active and passive components, as well as wireless RF solutions, including 4G, 5G, Wi-Fi, LoRA, NB-IOT, etc. In recent years, SINBON has been committed to providing customers with a complete set of solutions.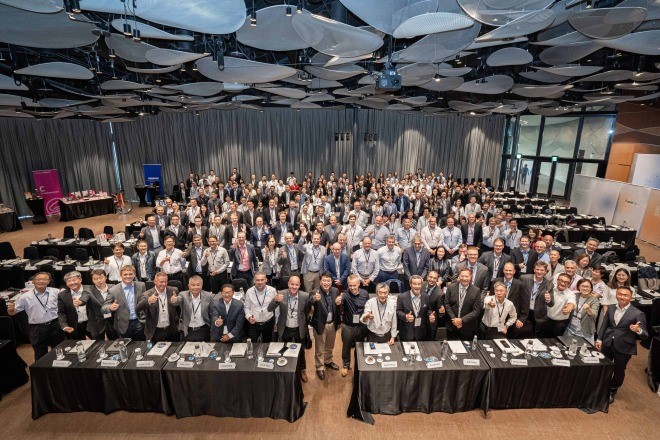 Since 2009, SINBON has regularly held a biennial global business conference to discuss sales strategies, share corporate culture, and report their product capabilities to the public. The picture is from their global business conference in 2019.
According to Tom Chou, Sales Engineer of iComponent Solution Business Unit at SINBON, the company's solutions span from healthcare, automotive, aerospace to industrial applications. With their one-stop production integration capabilities, SINBON can answer the customized needs of customers, and assign dedicated engineers for project coordination. From the initial project evaluation, mechanism design, cable assembly during manufacturing, to the later phase of product quality verification, each phase is supervised and managed by dedicated personnel to ensure the quality of service. SINBON's diversified services cover the provision of electronic components to customized products. The company is committed to finding the best solution for customers. SINBON's immediate global service and highly flexible customized production capacity can also respond to customers' needs in time. Therefore, it has always been considered a trusted partner by international clients.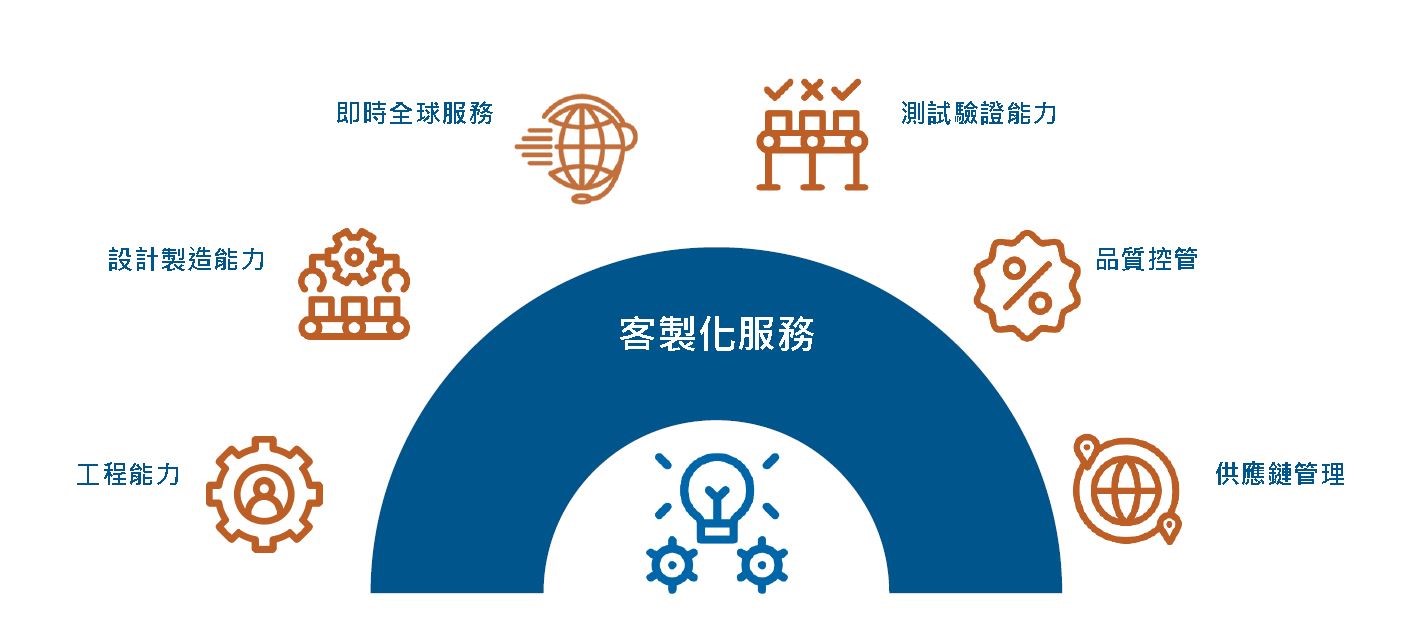 SINBON's "one-stop production" customized service can help startups overcome the threshold from product concept to commercialization.
SINBON has many years of experience in wireless applications. For example, it assisted in the integration design of YouBike 2.0's smart bike control system (a well-known Taiwanese company which rents shared bikes), including the internal LTE/GPS modules and part of the antennae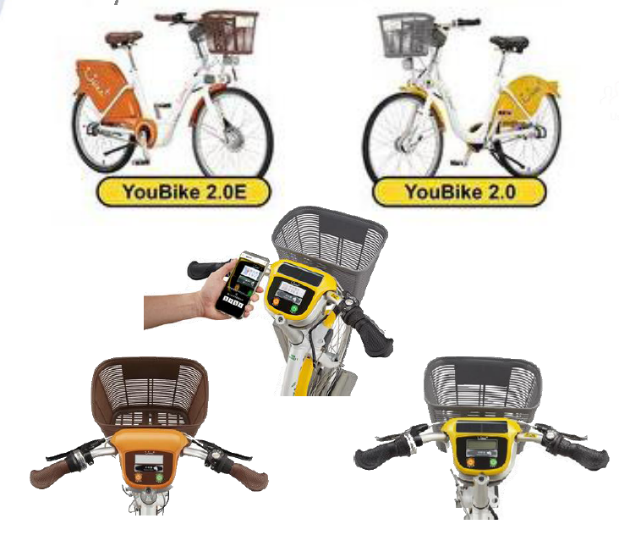 SINBON Electronics assisted in the integration design of YouBike 2.0's smart bike control system.
In addition, SINBON also assisted various domestic and international manufacturers in wireless deployment in smart buildings, in which IoT devices are interconnected with WI-SUN wireless technology so as to control appliances in the building such as fans, lights, switches, sockets, etc. The solutions are achieved via different degrees of IoT application.
After joining the "International Service Team" promoted by IoT Service Hub, SINBON is looking forward to solving demand issues for startups which will be matched with them in the future, especially those with wireless solution needs. Whether it is manufacturing, project evaluation, suggestions on product proposal, or other customized options, SINBON can definitely help their clients realize their goals.
"As a system integrator with ODM and OEM capacities, in addition to customized services, we can also help customers build an entire system and solve hardware development problems for startups," Tom Chou said.
Tom Chou believes that although design resources are abundant in Europe and the US, there are not many service providers which possess design and production resources at the same time, and production costs are also a problem. "Obviously, Asian companies still have an advantage over European and American companies in terms of production costs," he said. SINBON's "one-stop production" customized service can help start-ups carry out small-volume manufacturing, and thus overcome the threshold from product concept to commercialization. Also, the company's solid wireless solutions will be able to provide customers with a wider range of value-added services.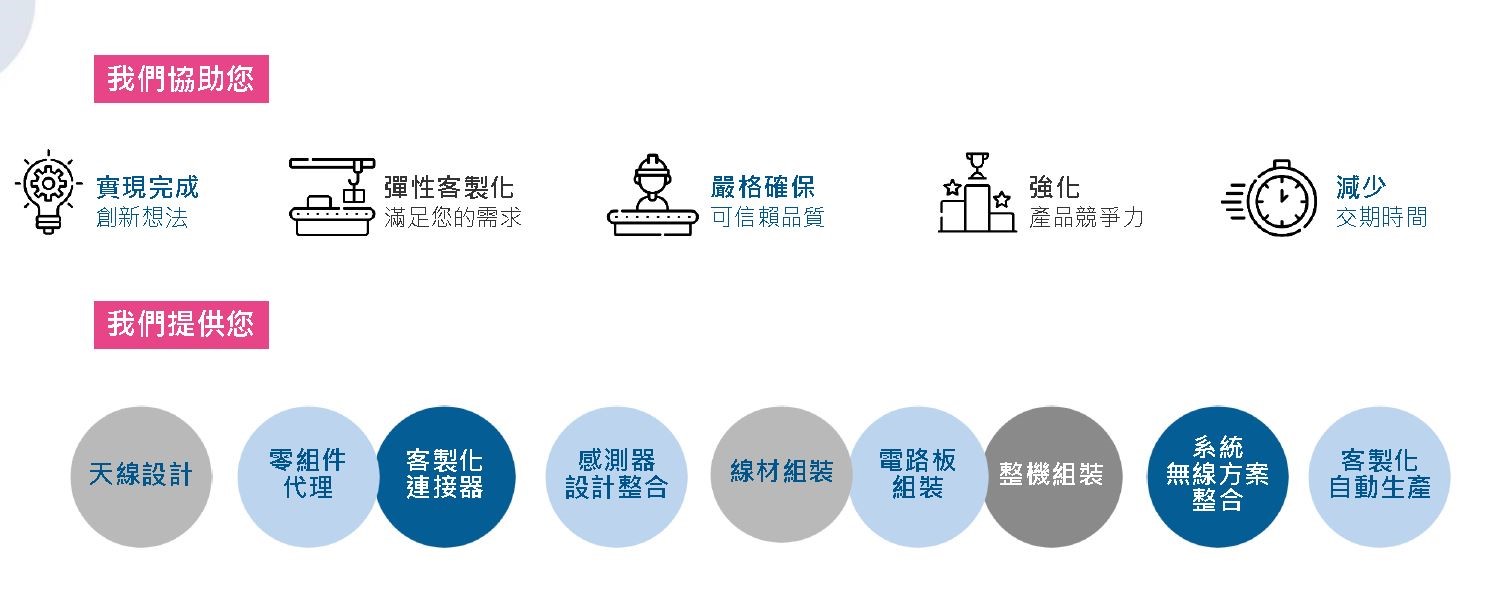 SINBON's wireless integration solutions can provide customers with a wider range of value-added services.